Tin Woof Inn is a boutique boarding facility with 75-square-foot indoor and outdoor suites. Your pet will be in climate-controlled comfort during the day and romp in one of four play yards in the mornings and afternoons. The boarding hotel specializes in long-term boarding, and the owners live on the premises.
We have built this facility with state-of-the-art design and materials with your pet's comfort and safety in mind. We have used only Priefert brand kennel panels, the best in the industry. The two-acre premises are double-fenced, and the 2,000-square-foot building was approved by the State of Kentucky and is finished with USDA approved materials with four separate heating and cooling zones. Pets are kept in either the main facility, or in our specially designed annex area, or in our newly built clubhouse building. Both the cozy kennel annex and the clubhouse are designed for older, geriatric pets, puppies and pets with special needs.
We have two dedicated cat boarding suites designed with your cat in mind. The suites have outside windows, which are screened and reinforced so no one gets out, that we can open on nice days, and windows with ledges on two other sides so cats can perch and watch. Special cat furniture helps create a home-like environment that cats really like.
Click any image above to view all in lightbox.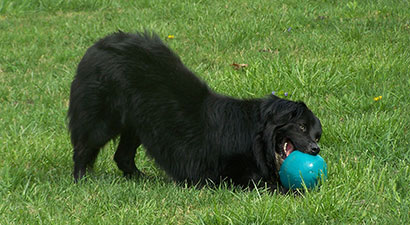 Many people with active dogs or puppies like to give them the opportunity to play with other dogs and have socialization experiences beyond the home. Day care is an ideal environment to teach social etiquette and give an energetic pet a real play workout with other dogs. In day care, dogs have several opportunities to interact with other dogs, play ball, swim, climb, fetch, play Frisbee, or whatever they like … assuming it is legal. We guarantee your pet will go home tired after a day care session.
We recommend dogs be dropped off between 7-9 a.m. in order to ensure they get ample time to play during morning play-time sessions. Day care dogs should be picked up prior to closing (6:30 p.m.).
We have a Premium Day Care Program where you can purchase five day care days at the regular price and get a sixth day free (these cards cannot be used for overnight stays).
Classes are limited to eight to 10 owner/pet teams. Proof of immunizations is required. Classes are 4 weeks long, one hour per week, and are $75 per class in Morehead. Classes are held in our 4,000-square-foot indoor training center. Please dress appropriately for the weather conditions for your training day as our arena is covered, but not heated or air conditioned.
All classes are positive-reinforcement training which allows your pet to learn with no stress. This makes learning and obeying fun and rewarding for both you and your dog. Bring a four-to-six-foot non-retractable leash and some yummy bite-size treats.
Puppy Manners
These puppy classes are designed for the whole family. Puppies learn important socialization skills with other dogs and people. Commands such as sit, down, come and walking on a loose leash are taught. Also, behavior issues such as, quit biting everyone, no jumping on visitors, housebreaking, digging, chewing, etc. will be covered in class. Just for fun, shake hands and roll over are also taught.
Home Manners
These beginner Obedience classes are designed for the whole family. Your dog will learn important socialization skills with other dogs and people. Commands like sit, down, come and leave it and walking on a loose leash are taught. Also, behavior issues such as, no jumping on visitors, digging, chewing, etc. will be covered in class. Just for fun, we will do a few tricks and try a little agility.
Basic and Advanced Agility
Class is held on request. Please call for more information!
Private Lessons
Private lessons are available by appointment. Many owners prefer to have a private lesson to focus on specific behavioral issues. Please call for more information!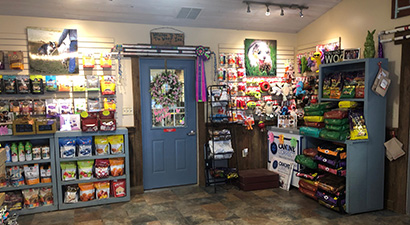 We carry an extensive line of super premium all-natural dog and cat foods including Fromm and Zignature. We also offer Canine Correct, a Kentucky Proud Product. We can order from our suppliers just about anything you might want.
We carry a selection of high quality, American sourced training treats. These new products emphasize freshness and high-quality ingredients with a minimum amount of processing and no preservatives.
We also offer a wide variety of toys that are "paw-approved" by our own dogs.
We offer full grooming services. Our groomer has experience grooming a wide array of breeds. We want your dog to get the best groom possible which is why you meet with the groomer when you drop off your pet. This allows you to communicate directly with them on how you want your pet trimmed. As an owner, you get exactly what you want. There are several reasons why we have been voted Best Grooming in Rowan County for several years: we have great groomers who know dogs' breeds, breed cuts and behavior and take the time to groom your pet properly.
Our basic grooming price includes a bath, nail trim/grind, sanitary trim and overall body trim/cut. Our prices are based on breed and your individual dog's condition. Call for a quote and an appointment today!
Monday-Friday
7-11 a.m., 2-6:30 p.m.
Saturday
7-11 a.m., 3-6 p.m.

Sunday
3-6 p.m.
(plus applicable sales tax)
Regular boarding (one dog, one run)
$26.00
Second dog, same run
$18.00
Day boarding (per dog, cutoff time is 10 a.m.)
$17.00
Long-term boarding (per dog, 30 days)
Call for rates

Day care (per dog, per day)
$18.00
Day care cards (6 days)
$85.00
Day care cards (two or more purchased at same time, each)
$80.00
Cat boarding suite
$17.50
Second cat, same suite
$11.50
Cat boarding (one cat, one enclosure)
$13.50
Second cat, same enclosure
$7.50
Nail grind
$15.00
Bath (depending on size)
$18-35.00