Class variety to meet your needs!
Tin Woof! Inn offers a variety of training classes to fit your individual needs. If you are looking to try a new performance sport with your dog, we have a variety of sports to choose from with classes at each level as you continue to grow and advance. If you are a new pet owner or seeking obedience skills for your pet, we offer various packages through the Dog Wizard program. Classes offered vary month to month. Please call the facility for more information.
Intro to Barn Hunt
This class is for dog and handler teams brand new to the sport of barn hunt. It will teach the basic objectives and rules, introduce dogs to rats and tunnels, and begin to shape a consistent alert behavior for the dogs to do when they find the rat tube.
Novice and Open Barn Hunt
This class is for teams who have completed the Intro to Barn Hunt class and/or are actively competing at the novice or open level at barn hunt trials. We will be working on preparing dogs to compete in novice and open by improving independent hunting, shaping an alert behavior, and completing full practice runs.
Senior and Master Barn Hunt
This class is for teams who have earned their Open title (RATO) and are competing at the senior or master level. We will be practicing upper level runs and problem solving any issues for each individual dog. Dogs will also be learning to give an "All Clear" behavior, which is needed at the master level.
Intro to Rally
This class is not offered every month, but when available, it is a class for dog and handler teams who want to get started in rally. Prerequisites include the Intermediate Obedience class or a good understanding of the heel command and consistent performance on all basic obedience commands. Students will improve their heeling, work on attention, and learn all the Novice rally signs.
Competition Rally
This class is designed for dog and handler teams actively competing in rally or working toward competing. Prerequisites for this class include the Intro to Rally class, or instructor approval which can be attained if the handler knows all the basic rally signs and the dog is comfortable running full rally courses. Each class includes group warm up heeling, walking a "nested" course to discuss specific handling options, and running the full course or sections as needed for each individual dog.
Intro to Agility
This class is not offered every month, but when available it is open to all dogs over the age of 6 months who have completed a group basic obedience class either at Tin Woof Inn or elsewhere. The class will teach handlers the rules and safety considerations for the sport of agility and will introduce the dogs to each piece of equipment.
Intermediate Agility
This class is open to graduates of the Intro to Agility class or dogs who have completed agility courses elsewhere. Dog and handlers will work on various skills each week. Focusing on contact behaviors and building confidence on all equipment in small sequences.
Competition Agility
This class is for dog and handler teams running sequences and full courses. We will work on one specific skill each week and run a sequence or course. Skills addressed: Weaves, contacts, start line stays, jump wraps, serpentines, backsides, etc. This class is open only with instructor approval. As dogs are ready, they will graduate out of Intermediate Agility and move into Competition.
Dock Diving
During the summer we hold Dock Diving classes in our outdoor pool. We offer both introductory and intermediate level classes. The Intro to Dock Diving class is a 2 week program that focuses on getting your dog comfortable jumping into the pool. Intermediate Dock Diving is a 4 week program that focuses on teaching your dog the various disciplines within the sport of DockDogs (Big Air, Extreme Vertical and Speed Retrieve). Please call for more information.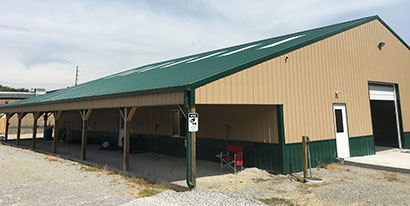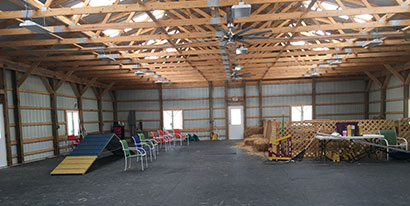 Dog Wizard Training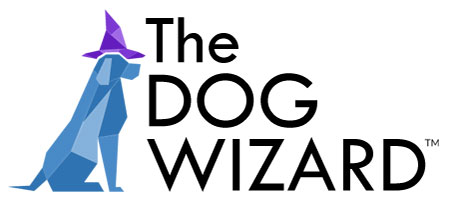 Tin Woof Inn is now a Dog Wizard Training Franchise location. Dog Wizard is one of the largest and fastest growing training organizations in the country. We now offer several programs through Dog Wizard including:
Puppy classes, puppy private lessons and puppy board and train programs
Foundation Class
Freedom Class, Private Freedom lessons
Jumpstart programs (board and train)
Day school programs
For more information on our New Dog Wizard program visit our Frankfort Tin Woof Inn Dog Wizard site:
Hours:
Monday-Friday
7 a.m. – 6 p.m.
Saturday
8 a.m. – 5 p.m.
Sunday
3-6 p.m.