Tin Woof Inn is a boutique boarding facility with 75 square-foot indoor/outdoor runs and upgraded suites, as well as dedicated cat boarding. Your pet will be in climate-controlled comfort during their stay and romp in one of six large play yards in the mornings and afternoons.
The facility has 24-hour monitored alarm service and cameras which ensure every pet is safe and secure. All units have raised beds for your pet's comfort. We also have both music and TV available in all kennel areas. These are designed to help minimize stress with ambient noise and create more of a home-like atmosphere.
We have built this facility with state-of-the-art design and materials with your pet's comfort and safety in mind. We have used only Priefert brand kennel panels, the best in the industry with no chain-link fences. The two-acre premises are enclosed by a six-foot-tall security fence and have more than 2,600 feet of fencing to protect and secure your pet. Unlike many home-based boarding facilities, our 4,300-square-foot building was approved by the state of Kentucky and is finished with USDA-approved materials with three separate heating and cooling zones. Pets are kept in one of three main kennel areas. While most of our units are the same 75 square feet (25 indoors, 50 outdoors), we have units with larger doors to the outside, privacy panels, and top enclosures to accommodate a variety of special needs.
Based on customer requests, this facility includes four pet suites. These units are almost twice the size of our regular units (6 feet by 8 feet inside) and feature themed pictures, accessories and pet-friendly furniture to create a home-like environment. This area has fewer runs and is generally quieter, better accommodating older pets or pets with special needs. The suites are almost always reserved, so if you want your pooch to be in the total lap of luxury during their stay, be sure to reserve your dates quickly!
We have a dedicated cattery with a living-room-like environment. Cats are kept in large enclosures with a view outdoors and are far enough away from the dogs so they won't be disturbed or stressed by any doggie noises or smells. They can enjoy play time outside their units and lounge on the cat tree or numerous windowsills. A TV in the room also provides ambient noise, and they can keep up on their favorite shows!
Click any image above to view all in lightbox.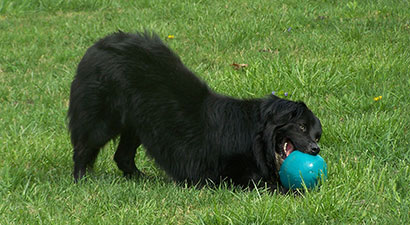 Many people with active dogs or puppies like to give them the opportunity to play with other dogs and have socialization experiences beyond the home. Day care is an ideal environment to teach social etiquette and give an energetic pet a real play workout with other dogs. In day care, dogs have several opportunities to interact with other dogs, play ball, swim, climb, fetch, play Frisbee, or whatever they like … assuming it is legal. We guarantee your pet will go home tired after a day care session.
Dogs should be dropped off between 7:30-9:30 a.m. in order to ensure they get ample time to play during morning play-time sessions. Day care dogs should be picked up prior to closing (6 p.m.).
We have a Premium Day Care Program where you can purchase a 6 day card (these cards cannot be used for overnight stays). We have programs for single and double dog families. Dogs can swim in our official DockDogs training pool at no additional charge. These cards do not expire. Please call us for more information.
Want a great dog? Get him or her in training class! These classes are positive-reinforcement based which allows all dogs to learn with no stress, so learning and obeying becomes fun and rewarding.
Classes are limited in size to allow the instructor to give personalized training to each pet team. Proof of immunizations is required. Classes are four weeks long, one hour per week, and are $99 per class in Ashland. Classes are held outdoors if weather permits and also can be held in our 1,000-square-foot training center. Please dress appropriately for the weather conditions for your training day. Bring a four-foot leash and some yummy bite-size treats. A variety of different classes may be offered at our separate locations; please always call for more information.
Puppy Kindergarten
Puppy classes are designed for the whole family. Puppies learn important socialization skills with other dogs and people. Commands such as sit, down and come and walking on a loose leash are taught. Also, behavior issues such as, quit biting everyone, no jumping on visitors, housebreaking, digging, chewing, etc. will be covered in class. Just for fun, some tricks are also taught.
Beginner Obedience
Beginner Obedience classes are designed for the whole family. Also, behavior issues such as, no jumping on visitors, digging, chewing, counter surfing, etc. will be covered in class. Just for fun, we will teach a few tricks as well.
Basic and Advanced Agility
Class is held on request. Please call for more information!
Private Lessons
Private lessons are available by appointment. Many owners prefer to have a private lesson to focus on specific behavioral issues. Please call for more information!
Board & Train
Board & Trains are a 10 day intensive training program for your pet. We personalize the program to meet the needs each individual has with their dog. First we meet with the owner to set the objectives of the training program. In order for us to make sure you are satisfied with the outcomes of your Board & Train experience we want to do the best job we can to clarify your expectations, explain our capabilities and delineate what performance changes you can reasonably expect in your pet. In addition to 10 days of training in our facility, Board & Trains also include 2 follow up private lessons to ensure your dog will perform for you in the environment they live in. Please call for more information.
Dock Diving
During the summer we hold Dock Diving classes in our outdoor pool. We offer both introductory and intermediate level classes. The Intro to Dock Diving class is a 2 week program that focuses on getting your dog comfortable jumping into the pool. Intermediate Dock Diving is a 4 week program that focuses on teaching your dog the various disciplines within the sport of DockDogs (Big Air, Extreme Vertical and Speed Retrieve). Please call for more information.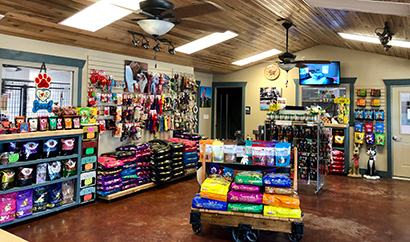 TWI carries a variety of treats and toys and many items typically used in puppy and obedience classes.
We carry an extensive line of super premium all-natural dog and cat foods including Fromm and Earthborn Holistics Unrefined. We also offer Canine Correct, a Kentucky Proud Product. We can order from our suppliers just about anything you might want.
We carry a selection of high quality, American sourced training treats. These new products emphasize freshness and high-quality ingredients with a minimum amount of processing and no preservatives. We also offer CBD treats from Canine Correct.
We also offer a wide variety of toys that are "paw-approved" by our own dogs. These include a full range of KONG toys as well as a variety of Nylabone chews.
We offer full grooming services. Our groomers have a wide array of breed and style experience. There are several reasons why we have been voted Best Grooming on different occasions: we have great groomers who know dogs' breeds, breed cuts, behavior, and they take the time to groom your pet properly. By allowing you to meet with the groomer at drop off, you can communicate directly with them on how you want your pet trimmed. As an owner, you get exactly what you want.
Our basic grooming price includes a bath, nail work, checking anal glands, sanitary trim and overall body trim/cut. Our prices are based on breed and your individual dog's condition. Call for a quote and an appointment today!
If your dog loves to run, jump and swim, then DockDogs is definitely the right place for you. We welcome any breed, any mix, any size to come out and join our Dock Diving family! DockDogs is the fastest growing sport on four legs. The Ashland and Frankfort TWI locations are the only officially sanctioned DockDogs affiliated facilities in the state of Kentucky.
Click any image above to view all in lightbox.
Monday-Saturday
7:30 a.m. – 6 p.m.
Sunday
3-6 p.m.
(Plus applicable sales tax)
Regular boarding (one dog, one run)
$32.00
Second dog, same run
$25.00
Day boarding (per dog, cutoff time is 10 a.m., regular boarding)
$24.00
Suites (one dog)
$39.00
Second dog, same suite
$32.00
Day boarding (per dog, cutoff time is 10 a.m., suite boarding)
$27.00
Long-term boarding (per dog, 30 days)
Call for rates
Day care (per dog, per day)
$25.00
Half day care (5 hours or less, per dog)
$15.00
Day care cards (1 card, 1 dog, 6 days)
$115.00
2 or more day care cards (bought at one time, 1 dog)
$110.00
Double dog day care cards (1 card, 2 dogs, 6 days)
$172.00
Cat boarding (one cat, one enclosure)
$19.00
Second cat, same enclosure
$10.00
Nail grinding
$15.00
Bath (depending on size)
$15.00-30.00