Charleston, West Virginia
We serve pet owners in the Ashland and Boyd County area 7 days a week. As the premier pet boarding, dog daycare, and dog training facility in Kentucky, Tin Woof! Inn is operated using the same professional standards of care used by the top veterinary and boarding facilities in the country. We have been pet professionals since 1993 and understand that there is a strong bond between pets and their families. Our mission is to support and enhance that bond in any way we can with existing pet owners and devote a portion of our time and resources to help animals find good homes and families.
Please see our Ashland facility pages for more information:
We are one of nearly 40 Dog Wizard training franchises nationwide.  We can solve your pet's training needs with our proven approach. We offer a free evaluation to help you get started meeting your dog's training opportunities. We have a large dedicated indoor training floor (not crammed in between stacks of dog food) and an artificial turf outdoor training surface. We also offer training and competition in a wide variety of dog performance sports including agility, and Dock Dog dock diving in our regulation 40' pool.
Our Ashland facility has 5 outdoor play yards to enhance your pet's daycare and boarding experience. These large, fenced, areas make it safe for your pet to play with other pets (if you desire) on grass, and get the exercise and socialization most dogs need for a healthy lifestyle.
Tin Woof Inn is a boutique boarding facility with 75 square-foot indoor/outdoor runs and upgraded suites, as well as dedicated cat boarding. Your pet will be in climate-controlled comfort during their stay and romp in one of six large play yards in the mornings and afternoons.
The facility has 24-hour monitored alarm service and cameras which ensure every pet is safe and secure. All units have raised beds for your pet's comfort. We also have both music and TV available in all kennel areas. These are designed to help minimize stress with ambient noise and create more of a home-like atmosphere.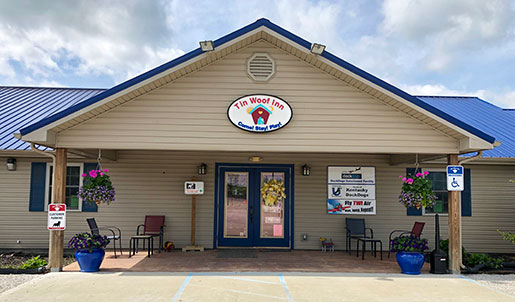 We value our customers and their feedback!
We also serve the following cities and counties from our three locations.
ASHLAND:
GRAYSON (CARTER)
PORTSMOUTH
SOUTH POINT
ASHLAND (BOYD)
HUNTINGTON
CHARLESTON
SOUTHEASTERN OHIO, WEST VIRGINIA, EASTERN KENTUCKY
FRANKFORT:
FRANKFORT (FRANKLIN)
LEXINGTON (FAYETTE)
VERSAILLES (WOODFORD)
LAWRENCEBURG (ANDERSON)
GEORGETOWN (SCOTT)
NICHOLASVILLE (JESSAMINE)
SHELBYVILLE (SHELBY)
AND WESTERN KENTUCKY
MOREHEAD:
WINCHESTER (CLARK)
STERLING (MONTGOMERY)
MOREHEAD (ROWAN)
OLIVE HILL (CARTER)
AND CENTRAL KENTUCKY